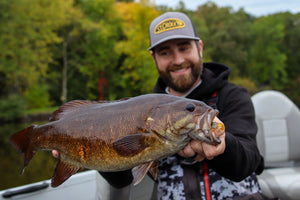 Micro Finesse Bass Fishing – The Must Have Baits
The bass gets its fair share of coverage in the fishing world and for good reason. They are after all America's favorite gamefish species. They are found across the United States and Canada. Their fighting ability, as well as the options for catching them, make them a worthwhile scaled adversary. Bass fishermen are often tasked with employing a wide variety of techniques in order to consistently catch bass. Take a look at the average pro-fisherman's deck – you'll often see a spread of different rods, reels, and lures ready for action.
As fishermen, we've all experienced days where fish don't want to bite. Maybe they're overly pressured, maybe they're just finicky, or maybe some unexpected weather conditions threw them for a loop. In these situations, anglers often rely on finesse focused techniques to tempt bass into biting.
With every passing season, old school techniques are refined and new tactics are developed. Many of the latest trends in bass fishing are related to finesse applications – largely in part due to the growing interest in BFS (bait finesse systems) and other finesse style. As the finesse fishing community continues to grow, so do the options for finesse fishermen. Specialized rod, reel, line, and lure options continue to show up on the market.  Eurotackle is no stranger to finesse fishing – in fact, it's built almost it's entire brand around finesse fishing.
When it comes to chasing bass – whether they're largemouth, smallmouth, or spotted  – there's a few options that'll convince even the pickiest of the bunch. 
B-Vibe
The B-Vibe has long been a staple in the Eurotackle lineup. The original 2-inch model has proven itself as a fish catching machine when it comes to panfish and trout. That being said, the B-Vibe is also a fantastic choice for ultralight and finesse bass fishing. In fact, it's a favorite of many bait finesse anglers. After years of feedback from our anglers, we welcomed a 3-inch version to our offering. It offers all the same fish-catching punch of the 2-inch version, in a slightly larger package.
The soft composition and thin body of the B-Vibe make it an effective choice for any fish species, but particularly largemouth and smallmouth bass. Its paddle is activated with the slightest resistance – allowing it to retrieved as fast or slow as necessary.
The B-Vibe was designed for cast and retrieval methods, but it also works well in other situations. Drop shotting or drop swimming is an effective way to fish the B-Vibe, particularly when fish are close to the bottom.
The 2-inch model is available in 12 different color schemes, while the 3-inch model has six different color options.
Fat Assassin
Similar to the B-Vibe, the Fat Assassin is offered in two different sizes – 2 inches and 3.5 inches. The original 2-inch model is staple for drop shotting and vertical jigging for panfish anglers, but it's also a great option for super finicky bass. Meanwhile, the 3.5-inch model is a great all around choice for bass interested in a little larger meal.
The lure features a ribbed and thicker overall body, which were particularly designed to give off micro vibrations when worked through the water column.  The ultra-soft composition allows this straight tail plastic to move freely with just the slightest movement of the rod
The Fat Assassin was developed to be fished via several techniques – vertical jigging, drop shotting, Ned rigging, or Neko rigging. Being as versatile as it is, this plastic is a must-have for bass anglers – no matter where they live.
The 2-inch Fat Assassin features 8 different color schemes, while the 3.5 inch is offered in six different choices.
Metacraw
Rounding out Eurotackle's bass centric line of finesse plastics is the Metacraw. With two different size options, the Metacraw is an ideal bait for bass of any size. The bait was developed to effectively imitate a crayfish, crawfish, crawdad or however you personally refer to them. The Metacraw features extremely soft claws, which can easily be manipulated, whether you jig it, drag it, swim it, or punch it. They were developed to kick very aggressively and give off that realistic feel.
The bait's compact, durable body makes it a great choice for skipping or fishing around cover. The Metacraw is most effectively fished via a flipping jig, on a Ned rig, on a Neko rig, or as a flipping bait.
Both the 1.8-inch model and 2.4-inch model are available in five different color options. 
Soft Lock Tungsten Jig Heads
Finding the right jig heads for plastics wasn't always an easy task. Thankfully, we took the guess work out of it with the introduction of the Soft Lock Tungsten Jig Head. The jig head was developed with soft lures, specifically our Micro Finesse line, in mind. With four different weights and two different hook sizes, the Soft Lock can cover nearly any finesse fishing scenario.
The Soft Lock features an extremely sharp, strong hook and a unique hook keeper that allows you to reuse plastics without them ripping or tearing.
The tungsten head design has its own distinct advantages. Tungsten is denser than lead, allowing for a smaller profile in a similar weight class. Additionally, the metal has an added level of sensitivity and is more durable than its softer metal counterparts.
The jig is offered in four different colors to match a wide variety of plastics.
---