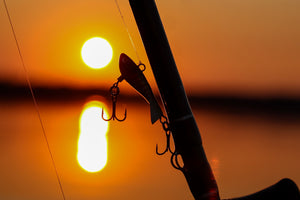 The All-New Z-Darter
For the last decade, gliding and darting baits have taken the fishing world by storm. Once thought of as a lure category exclusive to ice fishing, they are now being used more by open water fishermen than ever before. Walleyes, panfish, trout, and bass are all very willing to eat these reactionary baits.
Eurotackle entered the hardbait market in 2017 with the introduction of the original 1/16 Z-Viber. The years following this launch included the introduction of numerous other hardbait designs ranging from lipless crankbaits to jerkbaits and micro crankbaits.
With years of experience in design bait design, the Company tasked themselves with redesigning one of its existing baits - the Z-Darter. While the original design had aspects that proved advantageous, there were still areas that benefitted from improvements.
After years of research and development, as well as numerous revisions, Eurotackle is proud to introduce the Z-Darter V2. The all-new V2 comes in three sizes (#2.5, #5, & #7) to cover a wide range of species and scenarios, including both ice fishing and open water.
The Z-Darter V2 is built on an ABS platform similar to the Z-Viber, Z-Cranker, and Z-Spender lineups. The ABS base allows the Company to apply its familiar paint schemes to the lineup, and prevents paint chipping unlike metal based lures.
The ABS platform offers flexibility in features that aren't specifically available in traditional designs. The wings are molded into to bait itself which prevents them from falling off during use. Anyone that's used this bait category in the past knows that this can be a common issue with many brands.
Additionally, the lure features an internal rattle system, which aids in fish attraction by calling them in from a distance.
All V2s features two custom Eurotackle trebles which are located centrally and at the rear. The belly hook is attached via a rotating, swivel system and the tail hook is free-swinging which helps to keep fish pinned.
The combination of a weight forward design and the molded wings cause the lure to have a unique darting action. The lure can be fished vertically or via a cast and snap cadence. Regardless of how it's fished, the extreme action causes reactionary strikes from fish of all types.
The Z-Darter V2 is offered in seven different paints schemes.
The Micro comes in at 1/16 oz and 1 inch, the #5 comes in at 1/4 oz and 2 inches, and the #7 is 3/4 oz and 2.75 inches.
---