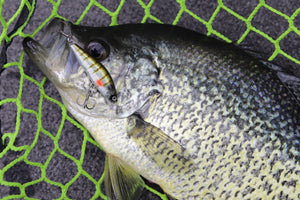 Summertime Crappie Fishing
Each and every spring, crappies seem to occupy the minds of nearly every fisherman in the Midwest. Springtime crappies pile into the shallows with intentions of creating the future generations. These mass schools of fish are followed closely by schools of fishermen with intentions of obtaining a few meals of fish.
 As the season progresses, the drones of crappie fisherman quickly transition their efforts towards the toothier varieties of fish species. The challenge of mid-summer crappies can be a lot more rewarding than one might think. Based on personal experience, productive days during the the summer months will often yield much higher catch rates than those in the spring.
Rods, Reels, & Gear
If I could provide one piece of advice for summer crappies, or panfish in general, it would be, "Don't waste your time with live bait."  Soft plastic paddletails, tubes and many others will out produce live bait applications throughout most of the summer months. Fish are extremely active during this period. One bait I always have tied on for summertime slabs, the Eurotackle B-Vibe. This bait alone accounts for more than 50% of my summertime panfish catches. Rigging plastics on a 1/32 or 1/16 oz Soft Lock jig head will cover almost all fishing conditions, depending on depth and weed cover. Opt for the former in shallow locations, or if there's the likelihood to encounter thick weeds.
Hardbaits also have their place during the summer months. Micro crankbaits, like the Z-Cranker, are great choice for covering water, especially when trolling on weed edges. A less common, but ultra-effective presentation for weed oriented fish include micro jerkbaits, like the Eurotackle Z-Spender. This bait reaches shallow depths, so it's perfect for pulling over the tops of weed flats. Remember to pause on the retrieve — that's usually when those fish will bite.
Fast to extra fast action rods are preferred for this type of fishing as they allow for quicker hook sets than typical moderate action panfish rods. Longer rods are also preferred because they allow for long casts. Opt for an ultralight to light power rod as they'll help keep fish pinned on their way back to the boat.   
Rods of this type should be paired up with a comparable size reel — 1000 series reels are what I opt for as they aid in casting and line management.  Light line classes are preferred depending on the specific application.  While historical trends lean towards monofilament as the line of choice, microbraids are slowly taking over as they provide a number of advantages. Microbraids, like the all new Eurotackle Microbraid, are more sensitive and provide a greater casting distance than more traditional lines. Pair these up with a light fluorocarbon leader for the best results.
Location, Location, Location
Anglers often question where crappies move to after they wrap thingsup in the shallows. In all honestly, they likely didn't move that far. Start near the areas they were located during the spawn. Day in and day out, lush, green vegetation adjacent to those spawning areas will typically have the highest productivity.
Certain vegetation types will be more productive than others depending on a given body of water, but all weeds in general have the ability to hold fish. In this part of the country, everything from coontail to cabbage to lily pads are all fair game. Don't be surprised if you find a rogue largemouth, pike, or walleye in your ventures, as they also tend to roam these same areas.  
Focus primarily on the weed edges during the summer months. Tools like side imaging technology help to pinpoint the edges, pockets, and changes in a hurry. You likely dropped some serious coin on that new unit, so it's best to make sure you are using it to its fullest potential.
Once you've located some quality vegetation, start pitching the plastics to the weeds edges. Slowly roll the plastic over tops and edges of the weeds. On the initial casts, start reeling as soon as the lure hits the water. After a few casts let the lure sink a little before reeling. This method can help pinpoint the depths at which the fish are located. If you start getting bit, anchor up or spot lock, as there are likely more fish nearby. If you aren't finding fish, keep moving.
Trolling patterns are also extremely effective for summertime slabs. Micro crankbaits or soft plastics trolled along a weedline are hard to beat. Rely on your electronics to locate and follow the edges of the weeds. Trolling speeds vary depending on the situation and conditions, but typically occur between 0.75 to 2.0 mph. It's sometimes necessary to move on top of the weeds, so pay attention to which speeds keep your lure just out of the weeds. Making sure you have enough distance between the boat and lure is imperative —sometimes being too close results in far less fish.
Crappies are located in a wide variety of locations during this time of year, including deep water and submerged wood. However, personal experience has shown that healthy vegetation is often best for focusing your fishing efforts.
Good luck out there!
Blake Tollefson
blake.tollefson@gmail.com
218-269-8486
@btollefsonfishing
---
1 comment