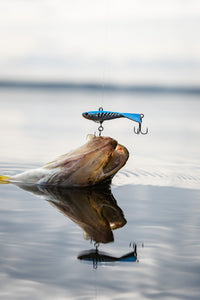 Same Baits, Fresh Looks
Introduced in 2022, the Z-Darter V2 made it's way into countless tackle shops and tackle boxes across the United States and Canada. After more than a year on the market, it's proven itself as a valuable member of the ever-popular gliding/darting bait category for both ice fishing and open water.
This reintroduction was led by more than a decade bait design experience. "After spending some time with the original Z-Darter, we knew we needed to make some modifications," says Ben Vnh, owner of Eurotackle. "There were some things that worked well, but there were some things that didn't. We took it all into consideration before launching the second generation." The V2 underwent numerous revisions with a dedicated testing team before settling on the right mix of material and design. "Our first revisions weren't all the different from the original model, so we went back to the drawing board," adds Ben. "The goal was to build some different from the others on the market, but still keep it true to the Eurotackle brand."
3D printed versions were tested and tested again, before settling on the final design. Once the design was selected, material was the next consideration. "The material needed to be something that was advantageous compared to other versions on the market," say Blake Tollefson. "I've spent a great deal of time fishing with baits in this category, and there's a number of issues that always arise."  After much deliberation, the company settled on an ABS platform, similar to that of the other members of the Z-Series family – Z-Viber, Z-Cranker, and Z-Spender. The ABS base offers some benefits not available in traditional materials – combining the ultimate mixture of form and function.  According to Ben, "The ABS design allowed us to create wings molded into the body, which seems to be a long-standing issue in this category. Additionally, the base is extremely durable and prevents paint chipping."
The V2 is offered in three sizes, so there's options for nearly any scenario.
Micro – 1/16 oz & 1 Inch
#5 – 1/4 oz & 2 inches
#7 – 3/4 oz & 2.75 inches
All V2s feature two custom Eurotackle trebles, which are located centrally and at the rear. "The belly hook is attached via a swivel system and the tail hook is free-swinging, both of which were added to keep fish pinned after hook-up," adds Vnh.
The Z-Darter can be fished vertically or via cast and snap cadence – similar to other gliding/darting baits. "The weight forward design and molded wings really gives the bait a unique darting action. Since it's comprised of ABS it falls a little slower than your average darting bait," says Ben.
The original launch featured seven color schemes. For this season, Eurotackle is proud to introduce nine all-new color patterns – three of which have never before been seen in the Eurotackle lineup. "The Purple Tiger, Goby, and Goldy were definitely colors we needed in the line," says Blake. "Now I'm hoping we expand some of these to the rest of the Z-Series."
In addition to the three new Eurotackle colors, six Scheels Outfitters exclusive color options will be available in the V2 lineup. "We've had lot of requests for these color schemes in the Z-Darter. We're happy that we were able to make this happen with our long-standing partner, Scheels," says Ben. 
The all-new color options are available now at eurotackle.net or at a retailer near you. If you're looking for the Scheels exclusive options, visit your local store or shop at scheels.com.
---