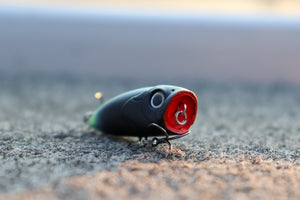 Micro Topwater - The Z-Popper
In 2017, Eurotackle took a leap and entered the hard bait market of fishing with the introduction of a micro lipless crankbait, the Z-Viber. Since inception, the Company has expanded its line-up of hard baits to four sizes of Z-Vibers, a micro crankbait (the Z-Cranker), and a micro jerkbait (the Z-Spender). These products are designed to cover subsurface fishing styles. But what about topwater? 
Enter the Z-Popper, Eurotackle's first topwater lure. At 1.75 inches in length and 1/8 oz, the "Popper" is a necessary tool in a finesse fisherman's toolbox. The "Popper" packs some serious punch into a small profile. 
It may be called the Z-Popper, but it shines both as a popper and a walking bait, which makes it very unique. In fact, it was designed specifically to do both. Walk the dog or pop it along - just make sure you hang on. 
The unique face of the bait moves a lot of water and creates some serious "pops" when worked properly.
The "Popper" features an internal tungsten ball - which offers a number of advantages. It's adds a knocking vibration when worked, but it also aids in casting distance, which is extremely important for small lures. 
This finesse lure was made to be a magnet for bass, trout, and panfish like crappies and bluegills. It was designed by finesse fishermen for finesse fishermen. Ultralight anglers and finesse fans alike will surely find a place for the Z-Popper in their tackle box.
The Z-Popper comes in six different color schemes to cover all species, water clarities, and conditions. All lures come standard with two of Eurotackle's custom treble hooks. 
Specifications: 1.75 inches, 1/8 oz
Target Species: Panfish, Bass, and Trout
---