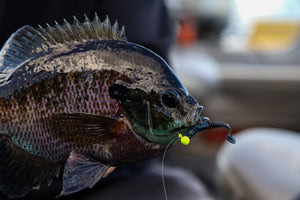 Finding New Water
As you look at a map of the Midwest, there are certain areas that appear to contain more water than land. Endless connections of lakes, ponds, rivers, and streams dot the landscape. Between Minnesota and Wisconsin alone, there's more than 30,000 lakes and ponds that range from one to two-acre bodies, on the small end, to large ones like Lake of the Woods and Lake Winnebago. Add in more than 175,000 miles of rivers & streams - and the Great Lakes – it's safe to say there is no shortage of water to fish in the Midwest. Finding water is an easy task, but finding the right water is a whole 'nother challenge. Thankfully, there are a number of tools available at your fingertips that can aid in the hunt for the good stuff. 
The Agency Tools
In the Midwest, local resource agencies, like the Department of Natural Resources (DNR), are without the best source for tracking down new bodies of water. Both the Minnesota and Wisconsin agencies have invested a great deal of time, effort, and money to ensure that information is readily accessible to fishermen.  
These resources provide lake specific details like the fish species that inhabit a lake, access points, and topographic (bathymetric) maps. Additionally, information related to waterbody specific fishing regulations and water quality data are available. Some resources include extreme level of detail regarding fish species, including the quality and quantity that were found in fisheries surveys.
The Minnesota tool, LakeFinder, allows users to search by lake and/or county. Additionally, the state's Recreation Compass allows users to find a body of water by map. The Wisconsin tool, Find A Lake, give users to opportunity to search by lake name, geographic location, fish species, water clarity, as well as a number of other factors.
If you're in need of more specific information regarding a fishery and its water dwelling inhabitants, additional resources are available. Both state agencies provide copies of their latest survey reports, which details the observations of the most recent survey and summarizes the findings in relation to fish species and aquatic plant communities. These are excellent resources for finding specific details about the overall health of a fishery.
Another factor that can play a role in finding a new fishery relates to stocking. Both Minnesota and Wisconsin have stocking information available through their websites. These resources allow anglers to search for stocking information based on location, year, and fish species. These records are extremely detailed and include quantities, species, size or year class, and sometimes even the strain of fish stocked in a specific system. Minnesota houses this data through their LakeFinder tool, while Wisconsin relies on a Stocking Database for searches.
In Wisconsin, the DNR has also gone as far as identifying specific bodies of water that are classified as Quality Fishing Opportunities for common gamefish species such as walleye, bass, and muskies. If trophy fish are at the top of your list, this is a good place to start.
In addition to the resources provided above, DNR Fisheries Staff can also be particularly helpful for finding lake specific information. They are often willing and eager to share the latest fisheries information they have available for the territory they cover. DNR staff are assigned to regions, so it is important to ensure you contact the appropriate individuals. 
The Other Online Tools
When it comes to finding new water, it wouldn't be fair not to mention other online resources. Online forums and fishing websites are often full of information – some of which can be very valuable. Prior to heading to a new body of water, take the time to review past fishing reports - you'd be surprised what other anglers might be willing to share. Other organizations, like Outdoor News, compile fishing reports from areas across on the Midwest and publish them on a regular basis. These are available for a small annual fee. 
Love it or hate it – social media can also be a valuable scouting tool. In this day and age, many organizations rely on social media platforms to share the latest information. It's no different in the fishing business. Guides, bait shops, resorts, and outdoor publications alike use social media to share details about what's being caught and where they're catching them. 
The Local Tools
In new areas, don't hesitate to reach out to more localized resources. The local residents might be more willing to share some information than you'd think. Stop in at the local watering hole or bait shop – buy a drink or some bait and ask a few questions.  It's not uncommon to gain some local knowledge or tip & tricks if you're willing to support the business.
If you're heading to a lake with resorts, don't be afraid to reach out – especially if you are going to stay with them. Resort owners, in particular, are often willing to share the specifics in hopes of landing more clientele and bringing back repeat customers.
There's a lot of fishable water in the Midwest. Don't let the number of lakes intimidate you from trying something new. Finding the right new water can pay huge dividends on the water and ice. Resources for tracking down the right water are available at your fingertips.
---