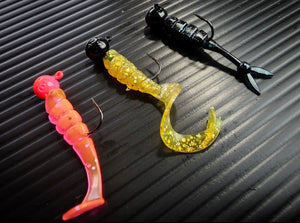 Extreme Philly Fishing & Eurotackle: The Ultimate Partnership?
Leo Sheng, more affectionately known as Extreme Philly Fishing, is a master of all things multi-species. As a life lister, his ultimate goal is to catch as many fish species as possible.  His fishing exploits, which are well documented via his YouTube channel and social media outlets, focus on educating anglers. While the channel promotes fish catching, he has a strong passion for fish safety, conservation, and proper fish identification. The Philadelphia based angler travels the world in search of new species – all while documenting his adventures.
Leo employs a wide variety of tools to catch fish of all shapes and sizes to add to his ever-growing list of fish species. As a self-proclaimed finesse fisherman, the majority of these tools are relatively micro in nature. Leo's fishing experience and needs as an angler led him to partner with the East Coast based, finesse fishing focused brand, Eurotackle.
The partnership has led to the creation of the EPF (Extreme Philly Fishing) lineup of Eurotackle lures. The series launched in 2020 and now includes soft lure options for nearly any finesse fishing scenario.
The first introduction to the EPF lineup was the EPF Swim – a 1" swimbait. The EPF Swim features a short, wide body and bulky segments to create a realistic swimming action and wobble. This finesse swimbait packs some serious fish catching punch into a micro package. The distinctive design and action make it the ultimate finesse option for any species.
In 2021, the lineup grew with the addition of the EPF Grub. At 1.2 inches, this curly tail grub is not your everyday grub. The unique tail of the grub features a distinct paddle that creates a wide side-to-side action. The segmented body also causes the grub to wobble on the retrieve.
For 2022, Eurotackle and Extreme Philly Fishing are proud to introduce the EPF Minnow. This lure comes in at 1.3 inches and features a wide, segmented body with a forked tail. The exclusive design includes a soft plastic ball at the head of the fork to create additional movement throughout the water column. The all-new plastic excels in vertical jigging scenarios, but can also be used via cast and retrieve methods.
All lures in the EPF lineup are designed to be paired with the Soft Lock Tungsten Jig Head. With options in 1/32 oz through 1/8 oz, there's a jig and plastic combination for every scenario. The EPF Swim, Grub, and Minnow are scented with Eurotackle's proprietary S-Pheromone attractant making them an irresistible choice for nearly any species.
The EPF lineup is available in nine color options. 
---
3 comments