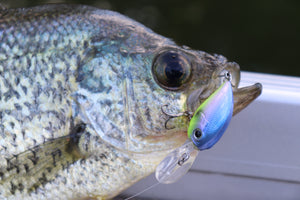 Best New Micro Crankbait?
The Z-Cranker
Specifications: 1.5 inches, 1/8 oz
Target Species: Panfish, Walleye, Bass, and Trout
In 2017, Eurotackle took a leap and entered the hard bait market of fishing with the introduction of a micro lipless crankbait, the Z-Viber. Since inception, the Company has expanded its line-up of hard baits to four sizes of Z-Vibers, as well as the Z-Darter, both of which excel primarily in vertical presentations. Three years later, Eurotackle introduced two brand new baits to the Z-Series lineup to highlight horizontal presentations.
Enter the Z-Cranker: a micro crankbait. Coming in at 1.5 inches in length and 1/8 oz, the 'Cranker' packs a lot of fish-catching punch into a small profile. The lure was tested and refined for more than two years before coming to market. The bait features a wide-bodied design and super low center of gravity for a distinctive wobbling action when worked via a cast & retrieve or trolling methods.
The 'Cranker' features a slow floating body. In other words, it's buoyant-balanced design allows the user to pause the bait mid-retrieve without it floating directly to the surface. The slow floating profile also prevents the bait from getting hung up in cover because it can be paused.
Designed to dive to depths of at 5 feet, the Z-Cranker is an excellent choice for covering skinny water or areas of thicker cover.  The bait features our internal double rattle system to call fish in from a distance.
The 'Cranker' excels in cast and retrieve methods, but is also a great tool for trolling.  The crankbait was developed to be fished with an ultralight or light rod and reel set up.
All lures come standard with Eurotackle's custom treble hooks.
The Z-Cranker comes in seven different color schemes to cover all species and water conditions, including two not offered in any other members of the Z-Series. The realistic paint jobs and design create a lot of flash on the retrieve.
---