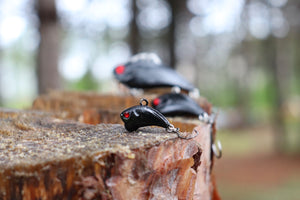 The Z-Viber - The Choice is Yours
Specifications: 0.6 inches to 2.75 inches
Target Species: Anything that Swims
Introduced in 2017, the Z-Viber hit the ice fishing market by storm. Since inception, the bait has received it's fair share of hype; all of which are well warranted. The lure was specifically developed to fill a niche in the fishing world that was often neglected. The size and profile of this lure was designed with the finesse fisherman in mind. It truly deserves to be in a category of its own. 
Over the last few seasons, new sizes have been added to the Z-Viber lineup, including the 1/8, 3/8, and 5/8. All new for the 2020-21 ice season, is the Z-Viber Micro. Coming in at 0.6 inches and 1/16 oz, the Micro packs some serious fish catching punch. Being that the Micro is the same weight of the original, and half the length, it sinks quick.  The lure is weighted with an internal, tungsten ball and falls about the same speed as the average tungsten ice jig. 
The Z-Viber was designed in a baitfish profile and is finished off with internal tungsten bbs  and a single, free swinging hook. The new Micro includes the addition of a high quality treble hook for those that prefer it. 
The lure was developed for both ice fishing and open water applications — excelling in the vertical jigging realm. An alternating combination of abrupt lifts of 12-24 inches, short jigging strokes, and pauses entices fish to bite. The lure's design and internal tungsten rattles create a tight vibration on the lift. The new Micro has a quick fall as well, which is slightly different from the original Z-Viber. 
Although the Z-Viber is often categorized as a vertical style bait, it also shines in other areas. Throughout the open water seasons, the lure is extremely effective via pitching and cast & retrieve methods. Retrieve it with a gentle ripping motion by sweeping the rod from nine-o-clock to eleven-o-clock, paired with a pause on the drop. Fish will often grab the bait on the fall. Additionally, the lure can be fished via a steady retrieve motion. The unique design makes the lure wobble erratically on the retrieve.
The lure is designed to be fished bare, but the single hook makes it easy to thread on a  favorite plastic or Mummy Worm. 
The Z-Viber is offered in a wide range of color schemes for different species and water clarity. 
Z-Viber Micro: 14 colors
Z-Viber 1/16: 14 colors
Z-Viber 1/8: 14 colors
Z-Viber 3/8: 8 colors
Z-Viber 5/8: 6 colors
There's a handful of exclusive colors on the market as well, so keep your eyes peeled if you want something different.
There's a Z-Viber for every situation and every fish species. Pick your size, your color, and your application — the choice is yours. 
---
8 comments