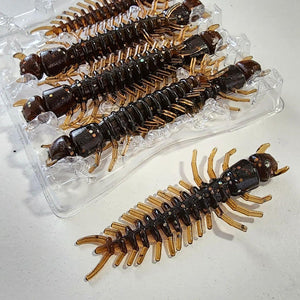 The Hellgrammite:
In today's market, options for fishing lures are in abundance. There's a seemingly endless list of sizes, profiles, and color combinations. In general, most lures can be classified into one of two categories: realistic or unrealistic. Realistic lures are exactly what they sound like – lifelike imitations of living organisms that fish prey upon. They are often developed to emulate the size, profile, and color of a given food source.  Unrealistic lures, on the other hand, typically feature unconventional designs with more off-the-wall color combinations. Their objective is more grounded in providing the fish with something they haven't seen before. Both categories have their role in the market, but in many situations realistic is the name of the game.
Eurotackle has built it's brand around designing realistic lure options – particularly those focused around finesse applications for panfish, trout, and bass. Their Micro Finesse lineup includes a wide range of 'bug like' imitations including bloodworms, leeches, scud, stone flies, crayfish, and more.

For 2023, Eurotackle is proud to introduce the all-new Hellgrammite. Coming in at 1.8 inches, the Hellgrammite is the perfect offering for any finesse angling situation. The lure features a realistic profile allowing it to be an ideal bait choice for any fish species. The ribbed body and natural action of the lure can convince event the wariest of fishy adversaries into biting. Due to the natural habitats of hellgrammites, you can expect this imitation to provide the best results in streams and rivers. The lure combines the perfect mix of durability and lifelike action.
The Hellgrammite is offered in several different color schemes including more natural options like black and brown, as well as more unconventional options like pink and chartreuse. Like every other plastic in the Micro Finesse line, the all-new Hellgrammite is infused with the proven S-Pheromone scent. The lure was pairs perfectly with the Soft-Lock Tungsten Jig Head, but is also very effectively fished as a dropshot bait or under a float.
While the bait works well for panfish, bass, and other fish species, it was developed with the trout fishing community in mind. In fact, this bait came to fruition due to the feedback directly from the trout community. Few angling groups understand the power of realistic lures as well as trout fishermen. This group devotes more time and energy to replicating specific bugs, minnows, and other food sources than most. With such a well-received introduction, there's no doubt this lifelike imitation with be responsible for putting trout in the net this upcoming season.
---
1 comment