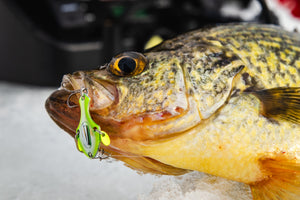 An Old Favorite, Redefined
New fishing lures hit the market each and every season. There's lures that boom and there's lures that bust. Some of these lures leave their mark on the industry, while others are pretty much forgotten after a season or two.  Fishing lures come in a variety of categories – each having their own benefits and drawbacks. Every category has it's place in an angler's arsenal, but, there's those specific categories that become the gold standard.
Take spoons, for example. They're a truly versatile lure category. They can be used for anything from panfish to walleyes to trout and more. They work well at first ice, they work well at last ice, and they work at any point in between. If you were to poll a group of ice anglers on their favorite lure category, there's no question that a majority would settle on spoons.
As such a versatile, long-standing option, this ice fishing category is home to more options than most of the other categories combined. Spoons come in different shapes, sizes, and compositions. There's flutter spoons, speed spoons, rattle spoons, and more – each of which functions in different manners. With such a 'flooded' market, how does one find something different?
For the 2023-24 ice season, Eurotackle is proud to the introduce the all-new Spade Blade spoon – a unique offering to the Eurotackle lineup and ideal addition to any tackle box. "The Spade Blade was developed in correlation with Travis Krousie," says Ben Vnh, owner of Eurotackle. "When it comes to creative lure options, Travis is truly a genius." Krousie is the original designer of the Demon Tongue spoon, which is now known as the Dinner Bell spoon.
 The 'Spade' combines aspects of a variety of spoons to make the ultimate package. The spoon starts off with a metal base which is formed in a distinctive spade design. The distinctive design causes the spoon to flutter with every drop.  "It's a really unique flutter too," adds Ben. "This isn't your standard flutter spoon."
The Spade Blade also combines aspects of attracting spoons with the addition of internal rattles and micro blades. The internal rattle chamber is placed centrally so it doesn't impact the fluttering action, but still helps to call fish in from a distance. The micro blades also have their own fish drawing power. "Obviously, the external blades add some additional sound attraction, but they also aid in visual attraction. The blades are designed to complement the overall color patterns of the individual spoons, while maintaining some contrast from the spoon itself," add Ben.
The Spade Blade features premium quality Mustad treble hooks. It is is offered in two sizes – 1/16 oz and 1/4 oz – to cover a wide range of target species, including walleye, trout, panfish, and bass.  The seven color schemes include some familiar options, as well as some new options that have never before been seen in the Eurotackle lineup.
"We are very excited to have the Spade Blade in the Eurotackle lineup. We had a couple of guys testing them all of last season and they had nothing but good things to say," says Ben. "I'm confident that Eurotackle users are going to like this one."
"While the Spade Blade was designed with ice fishing in mind, it's also a great open water bait," says Ben. "I used it a lot for stream trout and the one-of-a-kind construction causes it to swim very well."
The all-new Spade Blade is available at eurotackle.net and in Eurotackle dealers across the United States and Canada.
---