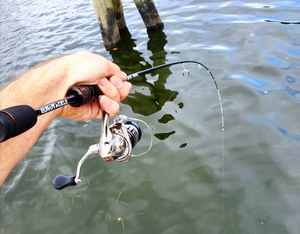 What's next for Micro Finesse?
For several years, Eurotackle has proven itself as a staple in finesse fishing. The company has developed a diverse array of lure offerings for nearly any freshwater species. Hard baits, soft baits, jigs, terminal tackle, and more showing themselves in bait shops and sporting goods stores across the country.
In recent years, the company has expanded it's offerings to include tackle organization and foldable rulers – in addition to importing high-end European tackle bags – all of which were welcomed with open arms.
With such a following in the finesse world, the logical choice for Eurotackle was to continue to develop more products for this community. For 2023, Eurotackle is proud to introduce it's line of Micro Finesse and Z-Series rods. The lineup includes four offerings that have been specifically developed for finesse applications. 
Rods are available in ultralight and light powers and range in length from 6 feet to 7 feet. The rods in the Micro Finesse line feature Ultra-Fast actions – which allow for precise casting and quick hook sets. Meanwhile, the Z-Series rod features a fast action making it optimal for the Z-Series line of lipless crankbaits, jerkbaits, as well as lures like inline spinners.
All of the rods feature RS Single Stand and Fuji LGAT guides and are finished off with a split grip, carbon optimized handle.
Micro Finesse 6.0UL "Nano" 1/64-1/8oz (Ultra Fast Action - Solid Tip)
T40 Cross Carbon + T40 Modulus
RS Single Stand and Fuji LGAT guides
Minimalist Carbon Optimized Handle
Micro Finesse 6.7UL 1/32 - 3/16oz (Ultra Fast Action - Solid Tip)
T40 Cross Carbon + T40 Modulus
RS Single Stand and Fuji LGAT guides
Minimalist Carbon Optimized Handle
Micro Finesse 7.0L 1/16 - 1/4oz (Ultra Fast Action - Solid Tip)
T40 Cross Carbon + T40 Modulus
RS Single Stand and Fuji LGAT guides
Minimalist Carbon Optimized Handle
Z-Series 6.6UL 1/32 - 3/16oz (Fast Action - Tubular Tip)
Full T40 Cross Carbon
RS Single Stand and Fuji LGAT guides
Minimalist Carbon Optimized Handle
Specially developed for hard baits & inline spinners
---
1 comment