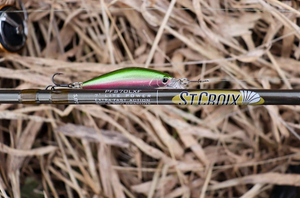 The Ultimate Finesse Jerkbait?
Specifications: 2 inches, 1/8 oz
Target Species: Panfish, Walleye, Bass, and Trout
Eurotackle has built its brand around finesse fishing. The company has continued to expand upon the line up of finesse hard baits through the introduction of a micro jerkbait: the Z-Spender.
Coming in at 2 inches in length and 1/8 oz, the Z-Spender is unique in every aspect. It features a one-of-a-kind action and balancing system. The bait's action is highly erratic, making it a top choice for everything from panfish to game fish.
The 'Spender' was developed to suspend perfectly twitch after twitch, jerk after jerk — the only one in its class. The bait excels when fished with light fluorocarbon, primarily those in the four to five pound line class. Due to its micro design, line type and diameter will have an impact on the depths it reaches.
As designed, the Z-Spender fishes at depths of up to three feet — a perfect option for fishing shallow water, rock piles and weed edges. The jerkbait can be fished via varying cast and retrieval methods. A steady retrieve will provide a consistent action, while a jerk and pause method provides a very erratic, darting action.
To fish the lure via a jerk and pause method, "snap" the rod towards you, then reel in the line quickly while moving the rod back towards the starting position. Alternate your retrieve by including pauses, as well as the number of "jerks." JERK-JERK-JERK-PAUSE, TWITCH-TWITCH-TWITCH, HOLD ON.
The micro jerkbaits are complimented with Eurotackle's custom treble hook which is designed to increase hooking percentages.
The Z-Spender comes in seven different color schemes to cover any species and water types, including one only offered in the Z-Cranker and Z-Spender.
Written by Blake Tollefson.
---