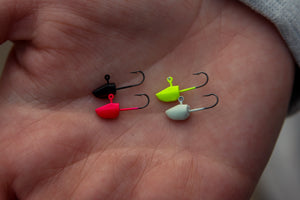 The Best Jig for Sonar?
"Why can't I see my jig?"
Any fisherman that's spent some time on the water or ice using electronics understands the amount of frustration behind this statement. As electronics evolve, their abilities become more and more enhanced - but they're certainly not perfect. 
Even with new technologies, there's still situations where anglers wish they could view their lures more clearly. This is particularly apparent in situations involving small baits. 
Enter the ESR Nano. The ESR (or Enhanced Sonar Return) Nano jig was designed specifically to show up more clearly on electronics, whether you rely on standard sonar units or have jumped into the forward facing sonar arena. 
The unconventional flat face design and larger surface area will provide an optimized sonar return no matter the situation. 
The ESR Nano is built on a 90 degree Mustad Ultra Point hook. The hook is features a slightly longer hook shank making it ideal for presenting a wide range of Micro Finesse soft plastics. 
The hydrodynamic design and tungsten composition allow anglers to fish fast. It is also perfectly balanced and ensures your presentation stays horizontal without requiring specialized knots or adjustments. 
The ESR Nano is offered in two different sizes. The 3.5 mm comes in at 1/32 oz and features a size 12 hook.  The 5 mm weighs 1/16 oz and features a size 10 hook.
Colors include: Chartreuse, Pink, Gold, Black, and White (Glow). 
---